Mark your calendars and bring the family to Rosscarrock Community Hall June 17th as we Celebrate Neighbors Day with our 2nd Annual Neighbourfest.
There are over 40 vendors bringing their creative works to our event, there is sure to be something for everyone. You will also have the chance to enter your name for one of 3 door prizes!  Along with our Artisan Market the kids will have 2 bouncy houses to enjoy. 3 food trucks will also be on site. We also have our Residential Traffic Safety Officers in attendance they will be happy to answer any questions or concerns you have on the traffic in Rosscarrock Community. The fun starts at 11:00 am and runs until 4:00 pm We hope to see you all there!
June 25th is our Community Clean Up 9:00 am till 2:00 pm check our website at www.rosscarrock.org for more information on what you can and cannot bring to our Clean up.
June 27th is our Annual General Meeting @ 7:00 pm. Do you have ideas on what you would like to see come to Rosscarrock Community? Plan to attend the AGM and have a chance to speak to Board Members to share your ideas with them.
Do you want to get more involved in the Community? Think about becoming a Board Member, it is a great way to meet people through events and other initiatives.
Rosscarrock Resident Job Opportunity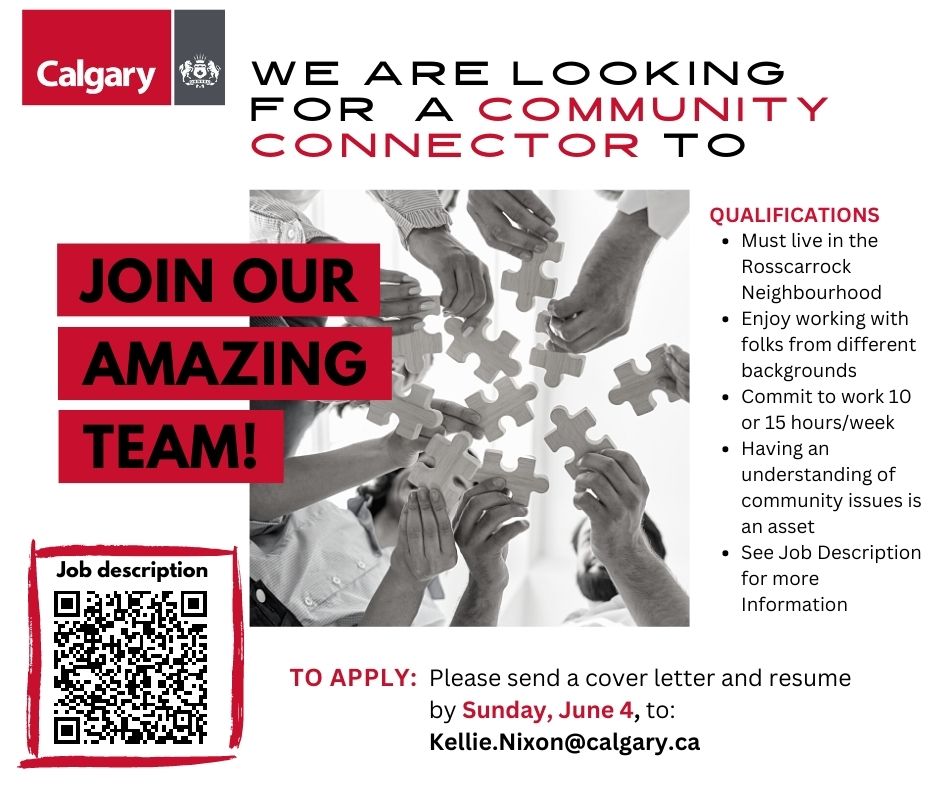 Good Food Box Update
Please see the Poster Below for updated information on the Good Food Box Order process.
Please note that the Next Order Date is June 5th with pick up on Wednesday June 14th at Rosscarrock Hall Office.
There are no Good Food Box Orders for the Month of July.
If you have questions please contact Lauretta at rcagoodfood@gmail.com or at 587-224-4340